We are pleased to offer this resource to support Waukesha County residents in need of re-homing their pet.  Animals listed on this page are not Elmbrook Humane Society (EBHS) animals, nor are they up for adoption through EBHS.  EBHS has not assessed, evaluated, or handled these animals. These animals are being re-homed by members of the community.
If you would like to learn more about this program, please visit our Surrendering Your Pet page by clicking here.
Additionally, Petco Foundation and Adopt-a-Pet.com offer a free online re-homing service.  For more information, click on the icon below.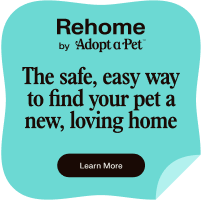 Pets Looking to be re-homed in Waukesha County:
Smokey and Buddy
Owner has entered into home hospice and is looking to re-home these two bonded male cats.
Both boys are 3 years old and short-haired. They are inside cats however they both LOVE to have their collar and leashes put on and be let out daily to lie in the
sun. They both wait patiently while their collars and leashes are put on them. They should be let outside on leash only. Both use the litter box with no issues and both are healthy. Smokey is the more outgoing of the two brothers. He walks on a leash just like a dog! He will walk as long as you allow him to. Smokey is not afraid of any dog or person! He is very inquisitive. He is very loving and will greet you when you come in and wants to picked up for a hug. If you aren't paying attention to him when company comes he will show off for visitors! Buddy is the shyer of the two and prefers just to be let out on his leash, not walked. Once he is comfortable with you he will rub against your legs and lay at your feet for a belly rub. Buddy loves to sit in front of the fireplace on cold days and evenings. He is very sweet guy! Both are very affectionate and very playful. They MUST be placed together because they depend on one another. They will try to sneak out because they love being tie outside so much. A diligent owner is needed. They are inside cats 95% of the time unless out on a leash. Both have claws but will sit nicely while you trim them! Smokey LOVES dogs and will initiate play time. Buddy is a bit shyer but follows Smokey's lead and will also show interest in dogs! The owner's wish is to have someone love them and cherish them as much as she does. If interested in welcoming these two lovely lads into your life and home, contact Cheryl at jmurray18@att.net or 262-408-9618.